Trump, Biden Push U.S. Manufacturing But Companies Need the Right Workers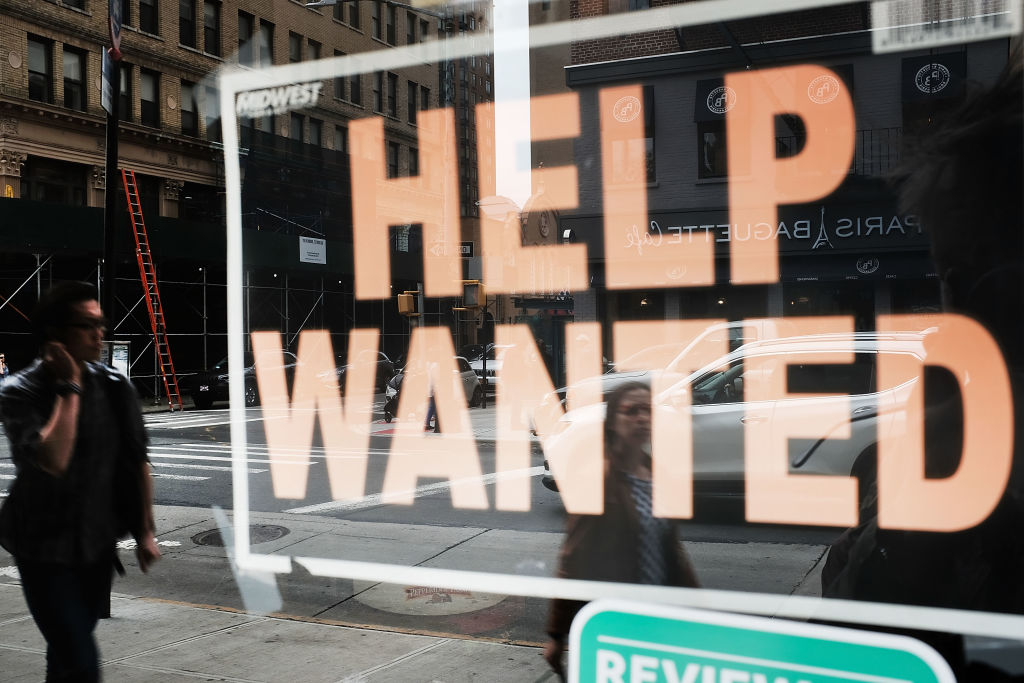 To get Brooke Sutherland's newsletter delivered directly to your inbox, sign up here.
If you hated President Donald Trump's tariffs, you're not going to like what his Democratic challenger Joe Biden has in store for manufacturing, either. Biden this week laid out a plan to target the offshoring of factory jobs with a carrot-and-stick approach that is strikingly similar to Trump's own. There are some notable differences in tactics, of course: Trump still favors tariffs and is light on actual new specifics, while former Vice President Biden offered a detailed proposal to claim a bigger share of overseas profits through the U.S. tax code. The general gist, though, is the same: a domestic manufacturing renaissance is a national priority and those who don't jump on the bandwagon will be penalized. 
Both candidates are also pitching tax credits for domestic production, while calling for stricter "Buy American" policies for the federal government. It's a stark turn away from the globalization approach that markedly lowered the cost of goods for consumers, and the risk under either candidate is that U.S-based manufacturers will wind up being less competitive because of rising input costs, as my colleagues Karl Smith and Noah Smith noted. Certainly, it's going to be hard for U.S. factories to compete if they don't have the necessary workforce. 
We talked last week in this newsletter about how that's one of the most glaring gaps in both the Trump and Biden plans. Both seem to be taking an "if you build it, they will come" approach to jobs when the reality is much more complicated. The narrative that robots are going to replace humans is overwrought, but the growing presence of automation and software is fundamentally changing the nature of those manufacturing jobs that will remain. When I speak with industrial executives, they consistently talk about the challenges of finding employees with the appropriate skill sets who view manufacturing as a desirable industry — even in the current environment of skyrocketing unemployment. There's an added impetus to not only find workers but make the employee base more diverse. Companies are trying to solve this right now with a mix of outreach initiatives and local government partnerships. All concede more needs to be done. 
For example, women make up just 5.5% of Union Pacific Corp.'s workforce, CEO Lance Fritz said this week in a presentation at a Cowen conference. The company wants to double that by 2030, which would still mean women account for just 11% of its workforce, with the starkest inequities occurring in its unionized labor pool. A physical performance test and the interview process are knocking out women at a greater percentage than the company would like, but it's also finding that the way job descriptions are written is keeping some women from even applying in the first place, Fritz said. "We've just got to get more women in the funnel," Union Pacific Chief Financial Officer Jennifer Hamann said. "When you look at the number of women that apply for the jobs, it's way down. So where do we need to advertise to do differently? What are different areas that we need to be reaching out to to even get the job in front of a woman?" 
ABB Ltd. is focusing on collaborating with local education systems and community groups as far down as the middle-school level. In Forth Smith, Arkansas, where the company operates a motors plant, ABB has started a youth apprenticeship program, advises the local university on curriculum and is participating in the development of a new career and technical education center that will feature state-of-the-art manufacturing equipment. It's also partnering with a local-area Girl Scouts group to try to draw young women toward manufacturing careers. ABB has had challenges in the past getting older workers interested in switching from other fields to manufacturing and moving out of their comfort zones, said Johnny McKusker, vice president of operations for ABB's U.S. motor business. It thinks if it can get to potential workers early, it has a better chance of making sure they have the skills it needs and an interest in working for a company like ABB. The company found a lot of overlap, for example, between the digital and 3D virtualization technologies it's rolling out in factories and video games. "We didn't see what was staring us in the face as early as we could have," said Jason Green, who oversees human resources for the U.S. motor business. "We need the young talent to have deeper skills in automation and robotics and machining, and we need them to develop those skill sets faster. A high school senior needs skills that we might not have taught until the second year" of a university program previously.
Local programs may be the most effective in terms of lining up new talent because they can be more targeted, Sara Greenstein, chief executive officer of Manchester, Connecticut-based filtration material company Lydall Inc., said in an interview. "You've got to solve for location, the workforce you have access to and the gap that exists. It's pretty specific," she said. But that support can start with government procurement programs that are large enough to justify a sustained supply chain, she said. Lydall makes filtration material for N95 and surgical masks, as well as HVAC systems. A $13.5 million contract from the Department of Defense is helping the company add two new production lines at a Rochester, New Hampshire, facility as well as a Center of Excellence for research and development work. "Covid was a wake-up call in my view on the need to have a secure, reliable, high-quality supply of products — and the materials that make those products — that are a national security or public health priority," Greenstein said. "We have to acknowledge that we've learned our lesson and can't rely on cheaply manufactured goods." 
MORE TROUBLE AT BOEING
Production flaws keep piling up for Boeing Co.'s 787 Dreamliner. The plane maker said this week that it had discovered a fabrication fault that may lead to improper gaps in the horizontal stabilizer, putting affected planes at risk for premature aging. The issue could affect about 900 jets, nearly the entire 787 fleet, and Boeing has slowed deliveries while its engineers investigate the issue. The company separately confirmed another fault involving a slight depression near the vertical tail fin that was discovered in late 2019 and has already been addressed in manufacturing processes. Neither of these production flaws is considered an urgent safety matter, but they add to the perception that Boeing has a problem with quality control and signal deeper culture change is needed at the company. The Federal Aviation Administration said it's probing the 787 manufacturing flaws. The 737 Max jet, meanwhile, took a step closer to finally getting off the ground as European regulators completed test flights meant to review fixes put in place following two fatal crashes. Airlines just keep canceling, deferring or reworking their orders, though. The Max backlog has shrunk by nearly 1,000 planes in 2020, with Boeing recording 17 outright cancellations in August. American Airlines Group Inc. said this week it's in talks with Boeing to defer the receipt of 18 Max jets meant to be delivered in 2021 and 2022. It's also studying whether it can take out a larger loan from the U.S. Treasury by tapping into funds Southwest Airlines Co. has said it no longer needs. 
DEALS, ACTIVISTS AND CORPORATE GOVERNANCE
General Motors Co. announced a strategic partnership with Nikola Corp. that will give it an 11% equity stake in the high-flying electric-vehicle startup. GM isn't putting up any cash. Instead, the company will provide Nikola with fuel cell and battery technology and become the manufacturer for its Badger pick-up model. Put another way, the transaction is really about sprinkling some electric-vehicle SPAC fairy dust over GM's technology investments and helping the company get proper credit for its efforts in this regard. The question is whether there is actually more than fairy dust to Nikola's name. The company doesn't have any meaningful revenue yet and short-seller Hindenburg Research accused Nikola of being an "intricate fraud built on dozens of lies" about its technology and capabilities. Nikola founder Trevor Milton claimed on Twitter that the report, not the company, was filled with "lies," while promising a more detailed rebuttal later with evidence of this. The fact is that if Nikola's fuel-cell and battery technology was so great, it's not clear why the company would need GM as a supplier. But frankly, little of the share price movements for both legacy and upstart automakers recently have anything to do with the actual business of making cars. Tesla shares suffered their worst rout ever this week on a mix of the GM news, a failure to secure a place on the S&P 500 Index and details on SoftBank Group Corp.'s aggressive derivative bets. These days, it's all about the hype and messaging. It's hard to blame GM for wanting a little of that buzz for itself, especially when it clearly does have the technology to back it up. 
Kansas City Southern rejected a $208-a-share offer from Blackstone Group Inc. and Global Infrastructure Partners, according to the Wall Street Journal. The bid implies a valuation of $23 billion including debt and equates to a 17% premium to Kansas City Southern's pre-pandemic high. As I've written before, it's unlikely that Kansas City Southern's evaluation of its own growth and profitability prospects falls in the same ballpark as the price that the private equity suitors can justify financially. If there was ever a window for bargain hunting in this particular stock, it passed a while ago. Even before speculation of a deal first bubbled up in late July, Kansas City Southern shares were well on their way to a recovery amid nascent signs of a rebound in energy, automotive and e-commerce shipments. As of the first week of September, daily volumes were back at pre-pandemic levels, chief financial officer Mike Upchurch said this week in a presentation at the Cowen conference. The company is reinstating its goal of lowering its operating ratio — a measure of profitability in which a lower number is better — to between 60% and 61% this year. Citigroup analyst Christian Wetherbee estimates a 55% to 56% operating ratio is eventually achievable and that would justify a $220 to $240 future stock price relative to 2023 earnings. 
Siemens AG is weighing an acquisition of industrial software maker Bentley Systems Inc., people familiar with the matter tell Bloomberg News. Bentley generates $700 million of revenue and focuses on engineering software for construction and infrastructure projects. Siemens already holds a 14% stake in Bentley, one of the people said, and the companies have had a strategic alliance since 2016. This would be the latest in a string of software deals for industrial companies, including Aveva Group Plc's $5 billion purchase of OSIsoft and Emerson Electric Co.'s $1.6 billion purchase of Open Systems International Inc., both announced last month. Honeywell International Inc., on the other hand, doesn't feel the pressure to join the deal bonanza. CEO Darius Adamczyk told Bloomberg News's Thomas Black that he's looking for takeovers, but prices range from expensive to downright "ridiculous" and he's wary of spending a billion dollars for not much in return. Thus far, he's primarily been focused on building up Honeywell's software capabilities through internal investments. It's hard to fault him for that approach. Even industrial darling Roper Technologies Inc. has come under criticism lately for its ever-more-expensive foray into software. Anyone who thinks Honeywell has to do a big splashy software deal would probably be the first to criticize the company for overpaying.
Elliott Management Corp. has built a stake in Noble Energy Inc. and plans to push the oil and gas company to abandon its sale to Chevron Corp., people familiar with the matter told Bloomberg News. Elliott reportedly believes the $5 billion all-stock deal undervalues Noble and thinks it should ride out the oil slump alone and consider selling its Mediterranean assets once there's a recovery. As I wrote when the deal was announced back in July, it truly was a bargain: the implied price tag valued Noble at a discount to where it traded as recently as June and was below the level analysts on average had been expecting the stock to reach over the next year on its own. Pressed by analysts at the time on why he was willing to sell the company on the cheap, Noble CEO David Stover cited Chevron's strong equity currency and the opportunity for shareholders to benefit from its dividend. Elliott reportedly thinks Noble holders are getting shortchanged on the exchange ratio, though, and won't benefit from a rebound in oil prices as much as they would have if the company remained independent. Analysts from KeyBanc and RBC are skeptical the activist shareholder will be able to stop the deal, citing a lack of investor interest in the energy sector right now and expected difficulties in selling assets.
BONUS READING
Boeing Union Girds for Battle Over Where to Build the Dreamliner
World's Top 10 Airline Stocks Are All Chinese, Except One
The Table-Top Warriors Trumping Tesla and Amazon: Chris Bryant
Why Are N95 Masks Still So Difficult to Obtain?: Joe Nocera
UPS Holiday Season Hiring Will Top 100,000 Amid E-Commerce Boom
Weight Gain Is Flip Side of Covid Food Crisis for Richer Nations
It's a Race Against Heat, and Humanity Is Losing 
To contact the editor responsible for this story:
Beth Williams at bewilliams@bloomberg.net