Asus ROG Zephyrus G14 review: Compact, powerful and a gamer's delight
Asus ROG Zephyrus G14 review: For long, gaming laptops were referred to as tanks and rightly so, because of their bulky body and weight. Most of these early gaming machines were, at max, replacements for gaming desktops with poor battery life. The game has changed in last year or so. We are finally, getting more universally accepted gaming laptops with more compact build and improved battery life.
One such machine, launched recently, is the Asus ROG Zephyrus G14 – an entry level gaming laptop from the Taiwanese company under its famous ROG series. It comes with AMD's new eight-core Ryzen 9 4900HS processor, Nvidia RTX 2060 Max-Q graphics chip for gaming, 16GB of RAM and a 120Hz display. 
The Asus ROG Zephyrus G14 price starts at Rs 80,990 without AniMe Matrix and Rs 98,990 for the models with it. Our review unit was priced at Rs 1,61,990. 
But, should you really buy it? Let's find out in our review of the Asus ROG Zephyrus G14.
Asus ROG Zephyrus G14 review: Design and Display
The most impressive part about the Asus ROG Zephyrus G14 is its universally accepted design. The laptop narrows the gap between a gaming machine and a professional notebook, while being inclined towards the first. It is a highly attractive machine that comes in two colour options – Moonlight White and Eclipse Grey. We had the first for review purposes which looks absolutely gorgeous.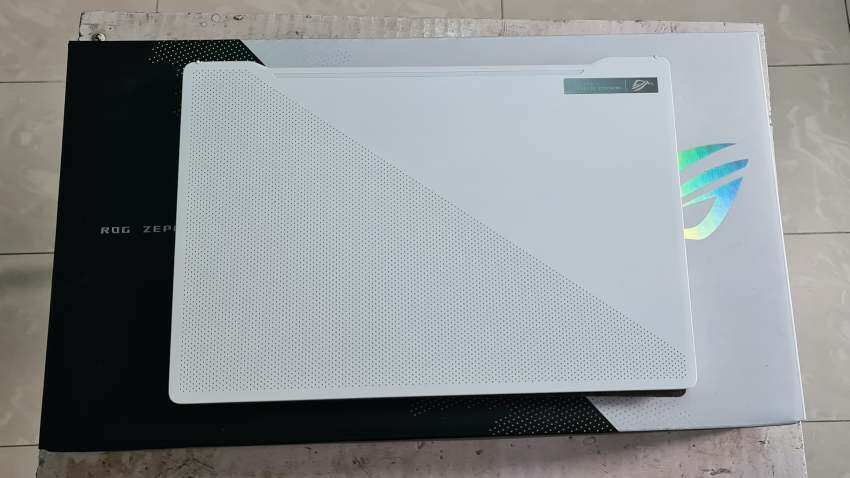 It sports a modern look without going overboard to justify the gaming laptop tag. Instead of the body aesthetics, Asus has gone with small elements to ensure that the Zephyrus G14 belongs to the ROG line up design-wise. The laptop comes with angled vents, big keycaps, HDMI and USB-C ports. 
In all, you get two USB-C, two USB-A, an HDMI, and a 3.5mm audio jack. The G14 can charge via USB-C and ships with Asus' 180W adaptor.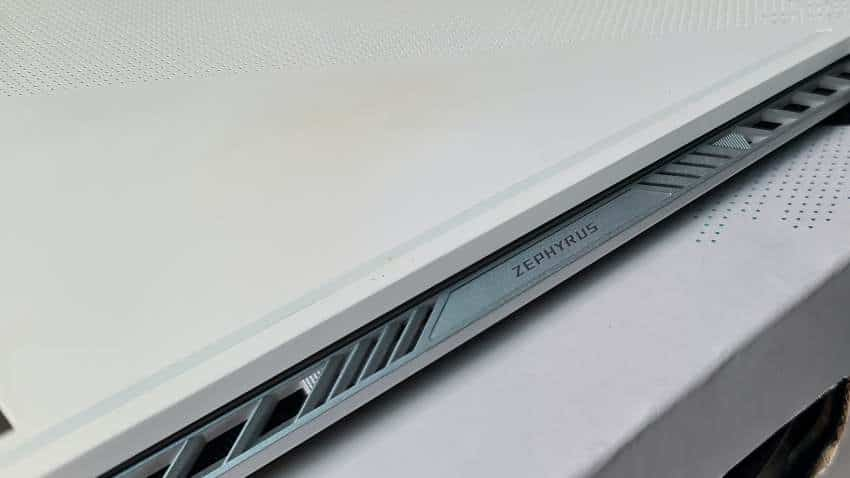 Asus has used a magnesium-aluminum alloy deck which reduces fingerprint smudges and at the same time, helps keeping the weight under check. The system is 17.9mm thin and weighs only 1.6kg, making it comfortable to carry around.
In some of its previous laptops, Asus had used a bottom flap that would open as you lifted the laptop screen from its closed position. It used to give a better angle to users for typing and open up the bottom vents for better cooling. However, on the G14, Asus has gone ahead with ErgoLift hinge – previously used in Asus ZenBooks. It allows the bottom of the display panel to reach under the laptop and performs almost the same function.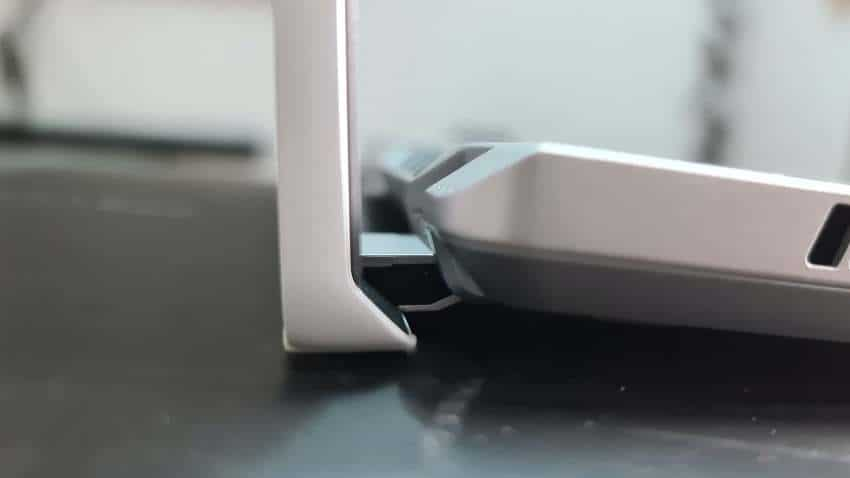 They keyboard is pretty good as well. The keys are responsive and you don't feel cramped at any point. Yet, if you are a frequent gamer, it is always better to connect an external keyboard. The touchpad works well and the stereo speaker system is pleasant too. 
As far as the display goes, you get a 14-inch Full HD screen with 120Hz refresh rate which is ideal for gaming, even though the recently launched Asus TUF Gaming A15 offered a slightly better 144Hz refresh rate. There is also Adaptive Sync which keeps frame rate and refresh rates in lock step for smoother gameplay.
The display is bright and punchy for streaming content, watching movies and playing games. 
The variant we had comes with AniMe Matrix display – a feature Asus is offering only on select modes. The company has claimed that it has created a personalised experience with 1,215 mini LEDs across the lid – each emitting a white glow with 256 levels of brightness control. The users have the option to import animated GIFs and other graphics, build custom animations frame by frame, and type text messages with different fonts. 
Visualizations react to music and other audio inputs, creating a unique platform for DJs and other artists. All of this can setup from the Armoury Crate. 
One thing missing here is the built-in webcam, which the customers will have to buy separately. 
Asus ROG Zephyrus G14 review: Performance and Battery
The Zephyrus G14 comes with up to a GeForce RTX 2060 Max-Q augmented by ROG Boost up to 1298MHz at 65W. The GPU is based on the latest NVIDIA Turing architecture and claims to provide improved lighting, shadows, reflections and other in-game effects.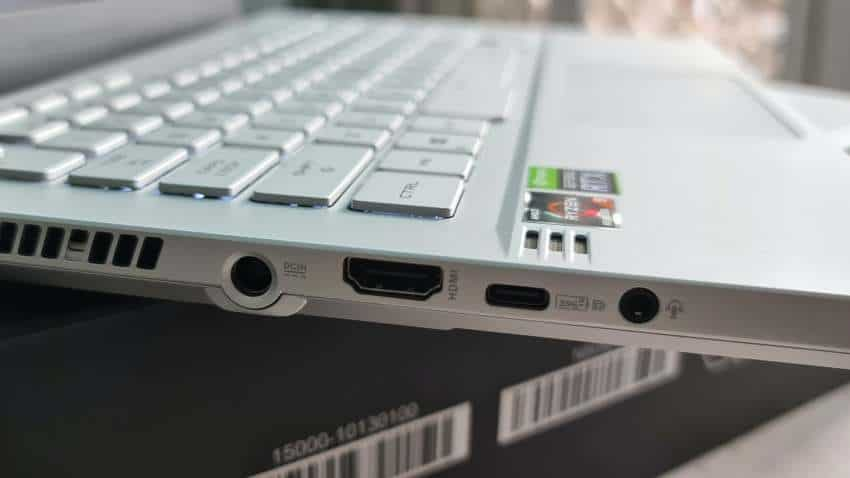 There are different models you can choose from. Our variant was equipped with Ryzen 9 4900HS chip, 16GB of memory, a 1TB solid-state drive, Nvidia GeForce RTX 2060 Max-Q graphics, and a 120Hz full HD (1,920-by-1,080-pixel) display. The second model has a Ryzen 7 4800 CPU, 8GB of memory, a 512GB SSD, a GeForce GTX 1650 GPU, and a 60Hz display. There is also a third model with Ryzen 7 CPU and same-size SSD, 16GB of RAM, GeForce GTX 1660 Ti graphics, and a 120Hz display.
The machine turned out more than capable of handling powerful gaming titles like The Witcher 3, Far Cry 5, Red Dead Redemption II and Shadow of the Tomb Raider. The graphics were slick, detailing was on the higher side and I didn't face any heating issues too. I ran most of these games in high graphics settings and it was good to see the machine deliver as per expectations. 
Now while the fans ensure that the machine doesn't heat up, you can clearly hear them run. In a relatively silent surrounding, the noise could be significantly loud. The only possible solution to this is probably to switch to Asus' "Silent" profile.
Another area where the Asus ROG Zephyrus G14 scores high marks is the battery life. The company claims to offer around 10 hour of battery life – something you don't usually expect from a gaming laptop. In fact, the maximum I managed to get out the TUF Gaming A15 was four hours. 
But, the Zephyrus G14 manages to last for nine to ten hours, during basic tasks. Of course, you can't expect more than two hours while gaming.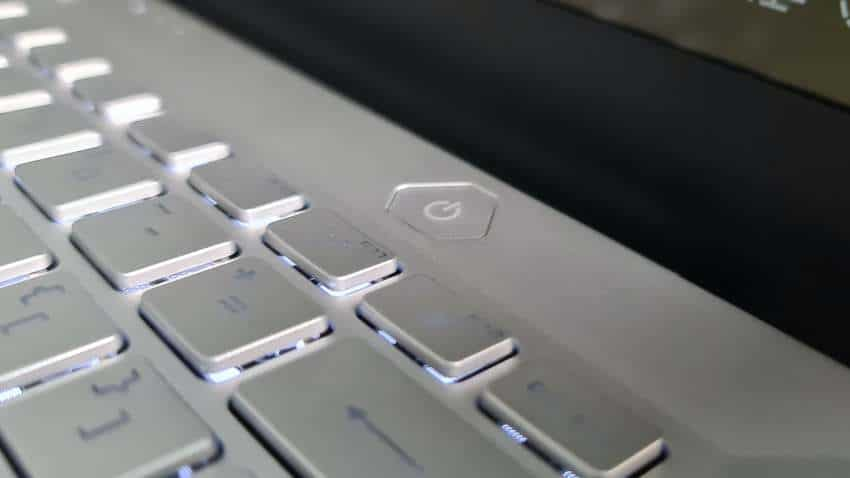 The G14 is also claimed to be the first gaming laptop to integrate a fingerprint sensor and to utilize an SSO power button (single sign on). Basically, your power button doubles up as the fingerprint scanner too. However, I didn't find it too responsive and had to use the usual password to log in. 
Asus ROG Zephyrus G14 review: Should You Buy?
The Asus ROG Zephyrus G14 undoubtedly pushes the limits with its unique match of powerful hardware and compact built. The design, thickness and weight of this laptop makes it ideal for office-tasks while what's inside it, makes it any gamer's delight. The icing on the cake is the comparatively affordable price tag. If you look around, you will find better gaming machines, but all of those will come for a premium. The ROG Zephyrus G14, on the other end, offers a greater value for money and qualifies to be your first gaming laptop.